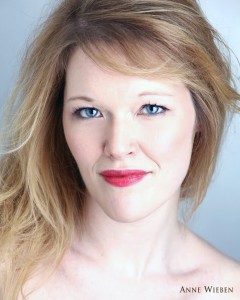 Vienna-based, American Soprano Anne Wieben has been hailed by critics as a "true diva", (Kronezeitung Voralberg) with a 'hint of femme fatal in her velvety soprano' (Süddeutschezeitung). She holds a Masters degree in Opera Performance from the Musik und Kunst Unviversität der Stadt Wien and a Bachelor of Music in Classical Vocal Performance, magna cum laude, from the University of Minnesota. She is the founder and creative director of Opera on the Lake, a summer opera festival in her home state of Minnesota, and the executive director of Minnesota-based Really Spicy Opera, another Minnesota based company that is committed to the creation of and performance of new works through the "Aria Institute" workshop series.
Upcoming highlights include starring in Die Namenlosen with Nesterval Theater (Vienna, May and June 2023), and Sylva Varescu in Die Csárdásfürstin in with Opera on the Lake (Saint Paul, MN, July and August 2023).
Most recently, Wieben starred as Hanna Glawari in Die Lustige Witwe/The Merry Widow with Opera on the Lake. She was also an artist in residence in Antananarivo, Madagascar in June 2022, performing concerts and masterclasses throughout the country. During the pandemic, she starred as Rosalinde in OperaRundUm's "Stay-at-Home", completely virtual production of Die Fledermaus in April and May of 2020. Before that, she jumped-in as Rosalinde with Musiktheater Vorarlberg in October of 2019. Reviews praised her as "a radiant diva with dramatic versatility and great coloratura" (Kulturzeitschrift). Summer 2019 also saw Anne once more as Rosalinde, first with Oper Rund Um and the Wir Sind Wien festival in June, and then in July with Opera on the Lake. Anne also covered the role of Médée in Cherubini's opera of the same name at the prestigious Salzburger Festspiele in July, 2019.
Wieben performs regularly with Vienna's premier interactive theater ensemble, Nesterval and recently starred Der Kreisky Test. This original piece was awarded the coveted Austrian Theater Prize (Nestroypreis) for Innovation in October of 2020. Anne also starred in their sold-out, Nestroypreis nominated show Das Dorf in 2018 and 2019 as well as their critically acclaimed Dirty Faust, which ran 30 performances from October 2017 through January 2018. Austrian newspaper "Die Presse" ranked the piece as the second best theater experience of 2017.
Also known for her interpretation of Mozart heroines, Wieben sang the role of Donna Anna to critical acclaim in Don Giovanni with OperaRundUm as part of the Wir Sind Wien Festival in 2018. She also sang the role with Oper Rund Um in August 2017 in Waidhofen an der Ybbs. March 2017 saw Wieben reprised one of her signature roles, Fiordiligi in Cosi fan tutte with Teatro Barocco.
Wieben sang the role of Marcellina in a historically authentic production of Mozart's Le Nozze di Figaro with Teatro Barocco in spring 2016. In the 2014/2015 season, Ms Wieben debuted the role of Rosalinde in OperRundUm innovative and successful production of Die Fledermaus in Niederösterreich. She also debuted the role of Fiordiligi in Mozart's Cosi fan tutte in opera houses and concert halls across Germany, including Munich, Stuttgart, Ulm, and Berlin. Her performances were hailed as "breathtaking" and "flawless". In September 2014, she premiered Austrian composer Hannes Kerschbaumer's piece luce nera at the esteemed modern music festival in Schwaz, Austria. In 2013 Ms.Wieben sang the role of Echo in Strauss' Ariadne auf Naxos and she gave her debut at the renowned Vienna Musikverein as Dot Robinson in the critically acclaimed Austrian premiere of Raymond Yiu's chamber opera The Original Chinese Conjuror. In an equally successful production, Ms.Wieben sang the role of Dorinda in Michael Hayden's baroque chamber opera Die Hochzeit auf der Alm as part of the Teatro Barocco festival in Stift Altenburg, Austria. The Austrian press named the festival as one of the top three most important cultural events of the year, and critics praised Wieben for her 'beautiful, well guided' and 'expressive' singing. Earlier in the season, Wieben once again sang the role of Donna Anna in the Kammeroper Weissenhorner's production of Don Giovanni, a role she debuted at Munich's Pasinger Fabrik in 2011.
In October, 2012 Ms.Wieben performed the role of Femme Fatale in the world premiere of Clio Montrey's chamber opera Photo Socrates at the Klangspuren Festival in Vienna. Also in 2012, she debuted the roles of Sandmännchen and Taumännchen in Hänsel und Gretel at the Einstein Cultural Center of Munich, as well as Lauretta in Gianni Schicchi at the Theater in Pfarrkirchen.
In 2011, Wieben sang the lead role of Diana in Anton Urpsruch's opera Das Unmöglichste von Allem, and has since reprised the role throughout Germany. Her performance was revered as 'captivating' and 'radiant' with a 'warm-sounding yet clear voice' (Neue Merker). She also recorded the role for Marco Polo Records, and the CD was released in September, 2013.
Anne Wieben sang the role of Avril in Michael Nyman's minimalistic opera Love Counts in Vienna in 2010. That same year, Ms. Wieben was invited to St. Mary's Cathedral in Foxford, Ireland where she was the soprano soloist in performances of Mozart's Mass in C minor and Mendelssohn's Elijah. She has also been the soloist in Faure's Requiem and Saint-Saens' Christmas Oratorio in Minneapolis, Minnesota. Taking on contemporary art song in Vienna, she sang Otto M. Zykan's 5 Lieder and 5 Haikus at Museum Währing and Clio Montrey's 5 Mannequin Songs at OFF Theater.
Ms. Wieben began her career in Vienna as a mezzo soprano and performed Dorabella in Così fan tutte at the Odeon Theater, Niklausse in Les Contes d'Hoffmann at Theater Akzent, Frau Schuster-Bellheim in Die Drei Wünsche at Musiktheater Schönbrunn (and recorded for CPO Records), Vittoria in The Gondoliers at Kammeroper Wien, and Frau Madaldrut in Siegfried Wagner's Der Schmied von Marienburg with the Gdansk Philharmonic (and recorded for Marco Polo Records)